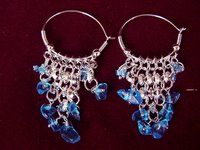 Earrings come in so many different shapes and sizes. Some are long, some are short, some squat, some thin, some dressy while some aren't. Oh my! The world of earrings has so much to offer to girls these days.

I love collecting earrings. In fact I have a Hugh collection, a collection I started when I was in my fourth or fifth grade. Whenever I go to shopping I invariably get one or two. It was only in the newspaper that I happened to read of this phrase 'Ear Chandeliers'. Sounds good, doesn't it?
So in my curiosity I went to this shop keeper and asked 'Ear chandelier irukka pa?' He gave me one stiff stare are then relaxed a bit (guess he didn't want to drive me away). He showed me a number of things but none fitted the description in the newspaper.

Disappointed that I could not find my ear chandelier, I went to my friend's place. She had also apparently gone out shopping and was showing me some of her goodies and viola! I found it ! the ear chandelier. Yes, it looks very much like a chandelier with crystals and pearls intricately studded and draped around a gold jhumka hanging in a hugh gold ring. It is very pretty and looks dressy when you wear them.

On my way back I got myself a ear chandelier and with that I have added to my collection another interesting word- 'the ear chandelier'